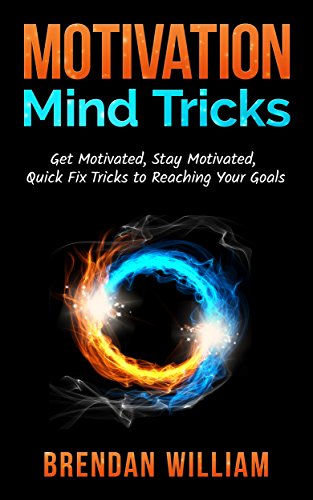 Motivation Techniques which will UNLEASH Your Greatest Potential!
Motivation comes from within, with this book we will bring your motivation out! MOTIVATION Mind Tricks uses proven methods to get you to your goals by using a straightforward, "easy to absorb and implement" approach.
"A Motivation MUST Read! Get Motivated and Stay Motivated with the pieces of Gold found in these pages which you will treasure for a lifetime!" Bradley P.
"This Motivational book is something special! It will get you motivated and ignite the fire deep down inside of you – guaranteed!" Sarah W.
MOTIVATION Mind Tricks is ON SALE for a LIMITED TIME only!
MOTIVATION Mind Tricks is a collaboration of the BEST of the BEST in the fields of Motivation, Inspiration, N.L.P., the Law of Attraction, E.F.T., and more, but all with the Author's unique twist. In addition, this book contains many motivational techniques in which are brand new, created by the Author, for you.
Brendan William provides many methods, or TRICKS which will leave a lasting imprint on your subconscious mind, positively influencing the rest of your life.
Free 30 Day Ritual and 30 Day Motivation Affirmation Challenge included!
Whether you already have a goal in mind, or are in search of your life's purpose, MOTIVATION Mind Tricks will make you want to get up and take action immediately. With this book you will surpass your wildest dreams.
The First Section of MOTIVATION Mind Tricks will provide you some conventional psychological techniques or "Tricks" coming from a different approach, with a different twist.
The Second Section of MOTIVATION Mind Tricks introduces unheard of, unconventional tricks, designed specifically to leave a positive, lasting impression on your subconscious mind.
By using the techniques in MOTIVATION Mind Tricks you will unveil your greatness!
MOTIVATION Mind Tricks Table of Contents:
Why I Was Motivated to Write This Book…
Why You Should Be Motivated to Read This Book…
Chapter 1 – Define Your Purpose
Chapter 2 – Who is Driving This Thing?
Chapter 3 – In or Out?
Chapter 4 – You are Your Greatest Investment
Chapter 5 – Dwell on This
Chapter 6 – Excuses are Man/Woman Made
Chapter 7 – Your Motivation Treasure Map
Chapter 8 – The Motivation Link Trick
Chapter 9 – The Sweeten the Pot Trick
Chapter 10 – The 15 Minute Motivation Trick
Chapter 11 – Motivation Time-Table Trick
Chapter 12 – The Tapping Trick
Chapter 13 – The Hostage Trick
Chapter 14 – The Chocolate Trick
Chapter 15 – The Sneak It Through Trick
Chapter 16 – Making the Motivation Stick
Also Included to Help Motivate You:

30 Day Affirmation Challenge to Help You Reach Your Goal
Daily Motivation Ritual
Must Read Books to Inspire and Motivate You
Our "Top-Picks" of Videos, Music, and Web-Sites to Motivate You Even Further
Brendan William is a Motivational Coach, Certified Neuro-Linguistic Programming Practitioner (under Steve G. Jones), Certified Law of Attraction Practitioner (under Joe Vitale from the Hit – The Secret) and Emotional Freedom Technique Coach. William is also a Black Belt in Tae Kwon Do and Blue Belt in Brazilian Jiu Jitsu. He has accomplished all of this in the span of only a few short years, after flirting with death on 3 separate occasions. It was directly after the 3rd time of his Doctor warning him he would not live to see the age of 30, as well as having another person tell him he would not amount to anything, in which he woke up and decided to change his life for the better; choosing to prove them all wrong. The Tricks in Motivation Mind Tricks are the exact methods Brendan used to change his thought pattern and life.